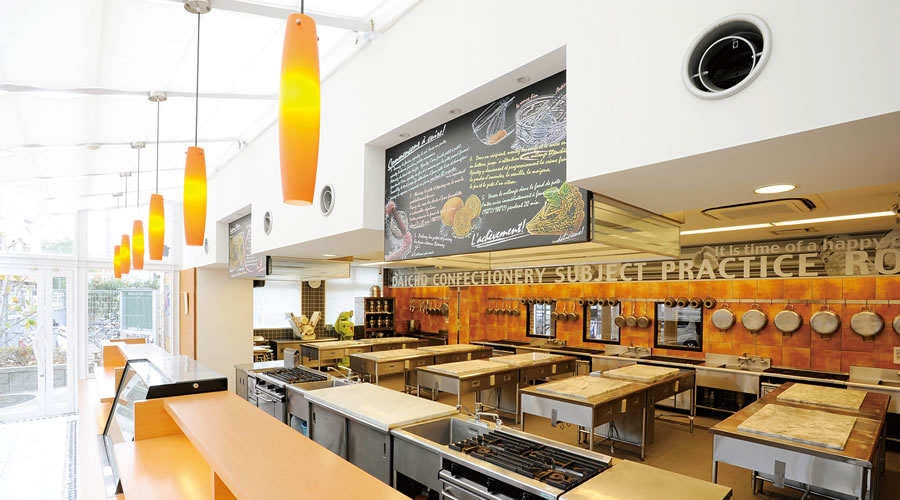 Dear parents,
To all high school teachersVISITOR INDEX
"Learning the heart" is the starting point.
1 or 2 years of study
I want you to acquire "delicious power".
If you want the "genuine", go to "DAICHO".
We have a surprisingly fulfilling "food stage".

To make "delicious food",
Technique and knowledge are of course important.
But that alone
It's not going to be a real "delicious thing".
Strangely enough, if there is no heart inside,
It's not really "delicious".

At DAICHO, cultivating skills and knowledge of cooking and confectionery
Of course,
You can thoroughly learn manners and etiquette as a member of society.
"Kokoro of compassion" "Kokoro of hospitality"
"Attentive heart",
In these three hearts,
With technology and knowledge added,
It becomes "delicious power" for the first time.

This "delicious power",
DAICHO's first-class instructors
I will teach you properly, so
you spent a year
I definitely want you to wear it.

In addition, DAICHO is a school-related facility.
Adjacent to the "Food and Welfare Complex Building",
This is where we hone our "true on-site capabilities"
We are implementing a program.

Inside the building,
Japanese cuisine "Uoken",
In addition to stores such as the steak house "New JOYBULL",
There is also a nursery school and welfare facility for the elderly.

Exactly human life
By touching "childhood, adolescence, prime of life, old age",
In addition to training "practical skills of food",
We will deepen our "human power".

It is not exactly "close to the site",
At DAICHO, which is "the site itself",
A true "power of deliciousness"
Everyone please wear it.
Handling of entrance examinations
Currently, Murakawa Gakuen has three schools in Osaka: Osaka Cooking and Confectionery College (Izumiotsu), Osaka Cooking and Confectionery College ecole UMEDA (Umeda), and Osaka Kenko Hoiku College (Izumiotsu). Shibuya) and Tokyo Yamate Culinary College (Setagaya).

Each vocational school independently manages its recruitment capacity, facilities, faculty and staff, classes, etc., and determines pass/fail based on entrance examinations and selection for each school.

However, only if the examinee wishes to change the school to a vocational school operated by the school, the change is permitted after re-selection at the new vocational school and the consent of the guardian.In addition, at that time, personal information such as application documents will be transferred to the new vocational school carefully and strictly according to the school's privacy policy.

[Vocational school established and operated by Murakawa Gakuen]

(1) Osaka Cooking and Confectionery College (Izumiotsu City, Osaka Prefecture)
(2) Ecole UMEDA, Osaka Cooking and Confectionery College (Osaka City, Osaka Prefecture)
(3) Osaka Health College (Izumiotsu City, Osaka Prefecture)
(4) Yamate Cooking and Confectionery College (Shibuya-ku, Tokyo)
(5) Tokyo Yamate Culinary College (Setagaya Ward, Tokyo)