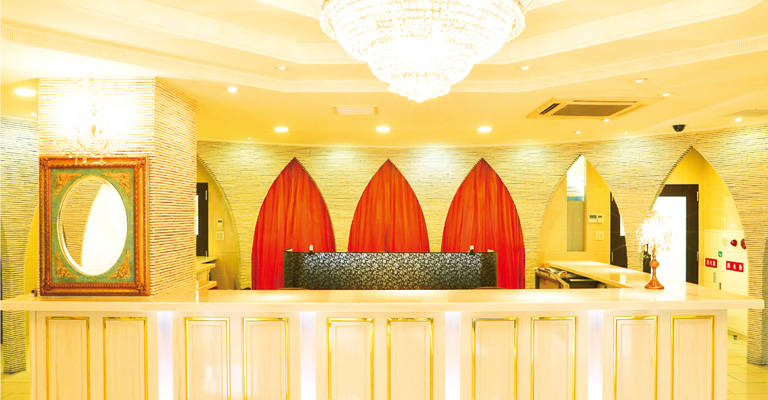 Campus/FacilitiesCAMPUS LIFE
"This is school, right?"
Exceptional sense and attention to detail
Specialized Campus
The Izumi school main school, which is the school headquarters, has a stylish cafe and
A classy campus that makes you feel like you are in a luxurious hotel.
Impressive equipment with attention to detail in each training room.
Japanese cuisine training room

convection oven

A multifunctional cooking appliance that can bake, simmer, and steam with steam and hot air.Depending on the cooking, use the gas oven properly.

sushi counter

Equipped with a sushi counter where sushi rice and toppings can be served to customers at the perfect temperature.Assuming cooking at professional sites such as restaurants and counter-style Japanese restaurants.
kiln

A special kiln for baking Peking Duck, a representative dish of Chinese cuisine.The kiln-baked cakes are hung in a kiln and baked slowly, giving the surface a crispy finish and the inside a moist finish.

crater

Equipped with a trivet that is a crater dedicated to Chinese cuisine.A specialized training room where each person touches a Chinese hot pot

Chinese cooking training room
Western cooking training room

Salamander

It is often used to finish gratins and steaks.It is possible to bake the surface crispy by applying heat only from the top.

crater

Introducing the latest oven and vacuum cooker.Cooking assuming a course meal is possible with a specialized plaque stove.
Espresso machine

Equipped with a cafe-style espresso machine.It is possible to learn café drinks such as latte art from a professional barista.

ice cream maker

Equipped with an ice cream machine equivalent to a hotel.Ice cream eaten in the summer can cause food poisoning, so hygiene management is important.

Salon de Appendre.
The Premier

oven

There are various ovens in the training room.I predict that when I get a job as a professional, I will be exposed to various types of ovens, and I will use them according to the menu I am working on.

Large mixer

A large mixer that is very useful for shop and cafe training.If you get a job at a patisserie or hotel, you will find many large mixers in operation.

大理石

The marble workbench on one side of the training table is suitable for practicing chocolate tempering, Japanese confectionery, and tart dough.
reverse seat

Essential for stretching the pie crust.There are also dedicated facilities at sites such as hotels.

Tamo board

Yeast (east) is active actively and is equipped with a taro board so that you can make delicious bread.Comes with casters that allow you to customize the layout for sales practice.

Cafe de L´atelier