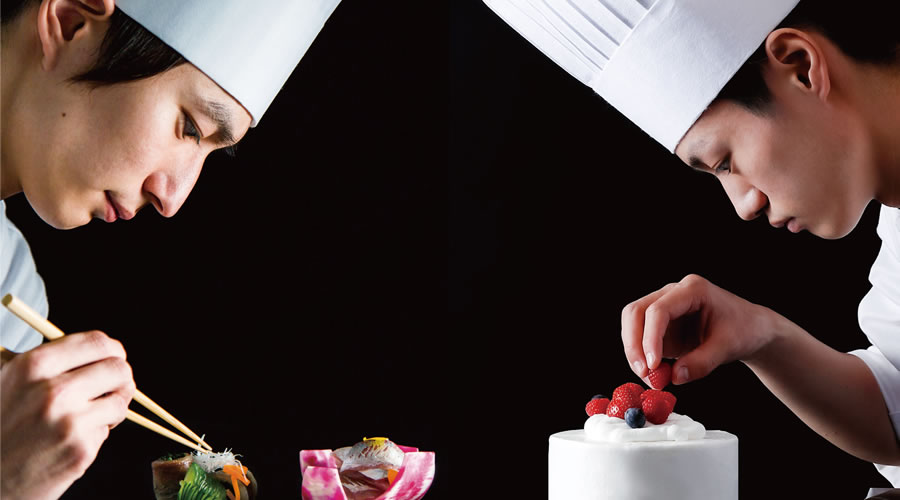 I knew the professional scene thoroughly
Led by instructorsStrengths of Daicho
Guidance by instructors who know the professional scene
Our instructors are an important part of a vocational school.
We have "practitioner teachers" for each specialized genre.
Professionals and corporate management who made their name in the industry
Up to professionals who can teach
knowledgeable in a wide range of skills
A professional group guides all aspects of the food industry.
cooking instructors
Chinese cooking teacher

Takashi Mori

After working at ANA Hotel Osaka (currently ANA Crowne Plaza Hotel Osaka), he was selected as the sous chef at ANA Gate Tower Hotel.After that, at the young age of 37, he became the manager and head chef of the Nara Royal Hotel.He has a difficult qualification in authentic China, a food medicine medicinal.

Chinese cooking teacher

Yasuo Furuya

Worked as head chef at Hilton Hotels & Resorts, which operates over 500 hotels and resorts around the world. After joining DAICHO, she will convey the charm of Chinese cuisine to students, and use her experience as a chef who knows "human resources required in the field" to focus on human resource development.

Japanese cooking teacher

Yoshinari Asano

Graduated from a vocational school.After working at New Otani Kobe Harborland, he went to Nagoya Marriott Associa Hotel as an opening staff.After that, he gained experience in the field as a sous chef at Novotel Koshien and others before joining our school.He carefully communicates the expressions of the four seasons that are essential to Japanese cuisine.

Western cooking teacher

Takashi Ebisu

Served as chief banquet chef at Tennoji Miyako Hotel (currently Sheraton Miyako Hotel) and South Tower Hotel Nankai Osaka (currently Swissotel Nankai Osaka).He also has about 40 years of on-site experience, including serving as executive chef at Star Gate Hotel Kansai Airport.Not only his cooking skills, but also his management skills are at the top level.

Japanese cooking teacher

Yasuaki Matsumoto

After graduating from DAICHO, he embarked on the path of Japanese cuisine.He has honed his skills at famous restaurants such as the long-established restaurant ``Sushikei'', which was founded in the first year of the Taisho era, and is the head chef at the long-established ryokan ``Toin Goshobo'', which is said to have been founded in 1191.Currently, he teaches the depth of Japanese cuisine at his alma mater DAICHO.

Japanese cooking teacher

𦚰Yama Fumiyoshi

After gaining experience at a Japanese restaurant, he worked for many years at the famous Japanese restaurant Daikinro, which has been in business for 160 years since its establishment in Edo, and reached the position of head chef.He has extremely excellent skills, and his skills have been recognized as the top person in Osaka Prefecture, and he has been selected as a "Naniwa Master Craftsman".He teaches students with certain techniques.

Western cooking teacher

Tomonori Tsuji

After working in sales at a company, entered DAICHO at the age of 25 and started cooking.After graduating, he worked at Harmonie Embrassee Osaka.After that, he joined his alma mater as a cooking assistant.Currently, as a teacher, in order to convey cooking knowledge and techniques in an easy-to-understand manner, I provide guidance from the student's point of view.
* We will introduce some excerpts.
Confectionery instructors
confectionery teacher

Kaoru Yoshimoto

Handled a variety of cakes for bridal and dinner shows at the famous hotel Hilton Osaka, which is expanding around the world.After that, he opened a high-end pastry shop after experiencing a patisserie.It is also gaining attention and gaining popularity in the media.Currently, he is teaching at the Osaka cooking and confectionery vocational school to develop confectionery personnel who will be responsible for the future by making use of his diverse experience.

confectionery teacher

Mitsuo Nishiyama

Served as manager of confectionery at Tokyo DisneySea Hotel MiraCosta.In addition, he has been involved in many new projects such as the launch of new stores for Regency Kyoto and Balnibarbi Co., Ltd., and is a driving force in the industry.He makes use of his advanced skills in making western confectionery and handicraft confectionery in his teaching.

confectionery teacher

Atsushi Ohtani

Worked at the ANA Crowne Plaza Hotel Kobe and devised innovative sweets such as wedding cakes with a fresh feeling.In her classes, she tells her that "not only skills but also the spirit of hospitality to customers and a sense of responsibility towards work are important."Fun and practical instruction is popular with students.

bakery teacher

Makoto Sasaki

Over 30 years of professional experience.He is active as a boulangerie at the popular boulangerie "DONQ".He is also good at bread making technology and human resource development, such as eight people trained by his teacher to open their own business.

bakery teacher

Chihiro Katsuki

Selected as a section leader at a famous store and has been active in the field for over 10 years.The bread, which shines with a sense unique to women, has a good reputation for its "gentle texture."

Wagashi teacher

Toshiyuki Tanaka

The second-generation owner of Ibaraki Shunkaan Tsutaya, a Japanese sweets shop that has been loved in Osaka for 30 years.He teaches the knowledge and techniques of Japanese confectionery unique to an active store owner.

Wagashi teacher

Deguchi Katsumasa

He has made a name for himself in the industry by appearing on popular TV programs, winning awards at the National Confectionery Exposition, and being certified as an excellent Japanese confectioner by the All Japan Confectionery Association.

bakery teacher

Yoshiya Tanaka

Taking advantage of about 30 years of experience in product development and operation management, our school teaches students in an easy-to-understand manner the charm of delicate bread making, where the way the dough is handled changes depending on the temperature and humidity of the day.

confectionery teacher

Masashi Ohkura

Active in multiple patisseries, including Monsieur Makino, which has multiple stores in Osaka.Currently, he is active as the owner of Patisserie FUTATSUKI.He teaches students in a variety of techniques.

confectionery teacher

Chikako Sakaguchi

After graduating from a vocational school, worked as a bridal pastry chef at the bridal company "Arcane Ciel Verite Osaka" and "Anniversaire Co., Ltd.", which handles bridal comprehensively.She also has a history of winning a bronze medal at the Japan Cake Show, Japan's largest confectionery contest.
* We will introduce some excerpts.
Special Visiting Lecturer
Inside the DAICHO campus,
From popular and famous restaurants to first-class hotel chefs and pastry chefs
You can meet and learn technology.
From a full-time teacher, while supporting your own growth
After thoroughly learning from the basics to application
Only top professionals who are active in the industry can understand
You can learn the latest trends in the industry and how to create hit products.
Kobe Kitano Hotel
General Manager/Executive Chef

Hiroshi Yamaguchi

At La Côte d'Or (currently Relais Bernard Loiseau), he studied under Bernard Loiseau, a leading figure in the French culinary world.Returned to Japan to open La Côte d'Or Kobe and became a chef.After that, he served as the general manager and executive chef of Kobe Kitano Hotel.

German well-established bakery
President of Rishart

Geghard Muller

Based in Munich, Germany, he is the 130th generation president of the traditional bakery "Rishart" with a history of over 4 years.He generously teaches students the recipes and techniques of authentic Rischart bread, which is made with carefully selected ingredients and is all hand-made.

French restaurant
Lumiere
President

Tai Karato

After training at the famous French restaurant Jean Moulin and La Côte d'Or, he became head chef at Kobe Bay Sheraton Hotel & Towers at the age of 33.Later he opened Lumiere.He is the owner-chef of a popular restaurant that has been awarded a star in the Michelin Guide for seven consecutive years.

CLUB HARIE
sector chef

Tetsuya Senoo

Serves as a sector chef at Club Harie.He won numerous awards at the Japan Cake Show Tokyo, Japan's largest confectionery contest.At the WPTC (World Pastry Team Championship), an international confectionery competition held in the United States, he was active as the captain of the Japanese team.He wins consecutive victories.

paris international cuisine sweets
competition finalist
Received French Agricultural Merit Award, etc.

Laurent Jean Marie

Restaurant
Chansonnier
Owner

Shigeo Shibano

Le Clos de Mariage
Owner

Isao Kuroiwa

Restaurant Valier
Owner chef

Minoru Takai

Royal Hotel Tosa
chef

Tadashi Mejima

Hotel & Resorts
ISE-SHIMA

Kazunori Inui

Nadaman Sakai Kitchen
chef

Akimitsu Maekawa

THE KASHIHARA
chef

Akihiko Fujii

There is a horse grand hotel
chef

Ryo Hashimoto

El Poniente
Representative Director

Yukio Konishi

ANA Crowne Plaza
Hotel Kyoto
Chinese Cuisine Karin Head Chef/
Master Craftsman of Naniwa

Kazuo Uchida

Hotel Nikko
Princess Kyoto
dim sum chef

barley

Kishiwada Grand Hall
Cooking Department Executive Officer

Yasuo Kaneshiro

Owner of ASTERISQUE
WPTC Japan representative
captain

Koichi Izumi

Seiichiro Nishizono
Owner

Seiichiro Nishizono

Patisserie Montplus
chef pastry chef

Shuhei Hayashi

Rhone-Alpes region
best chocolatier

Jean-Marc Scrivant

Confectionery Asada Owner
First-class Japanese confectionery technician

Eiji Asada

Pastry chef Ichi
Owner

Koichi Saito

Petit Prince

Yuta Tsujimoto

PATISSERIE LAFCA
owner chef patissier

Yuji Fukakusa

Hyatt
Regency Osaka
bakery sous chef

Shigeto Tsujii

see you soon
Owner

Kiyoshi Matsuo

Bakery Fournier
Owner

Takatoshi Sakata

UCC Coffee Academy
coffee advisor /
coffee brewer

Akihiko Fujii

One Room Cafe

Hideki Kimura

Japan Tea Association
Certified senior tee
instructor

Akiko Katayama