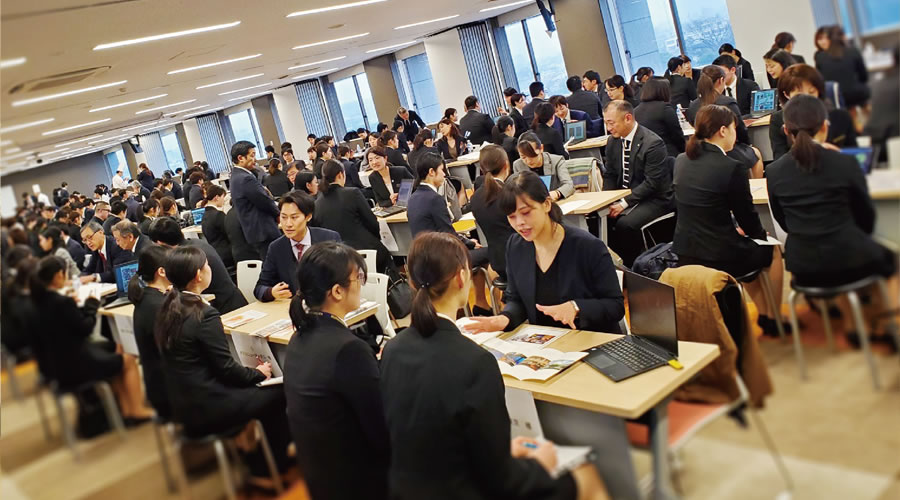 Joint company information sessionEMPLOYMENT SUPPORT
number, top class
On-campus company briefings ― Over 100 companies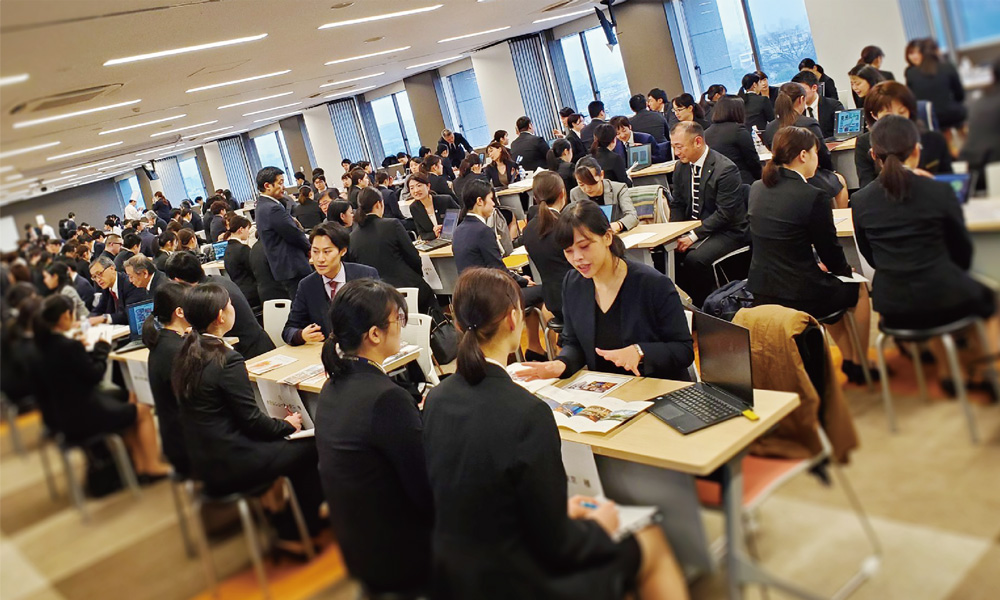 I'm a DAICHO student, so I want to hire you!
Over 100 companies visited DAICHO.At the entrance, there was a long line of recruiters and owner chefs who came to the school.

You can hear directly about the job content, the desired human resource image selection method, etc.In some cases, alumni OBs and OGs will talk to you in real life.

400 companies will visit the school for 100 students who are looking for employment, so you can listen to explanations in a small group.It's easy to ask questions and remember faces and names, so there are many opportunities to get offers from companies using the "scout system".
Company VOICE
(From a questionnaire answered when participating in a company information session)
Q1.Why do you want to hire DAICHO students?

Adopted DAICHO students for 4 consecutive years.
Hired a total of 11 people, turnover rate is 0%
I want to continue to have good relationships in the future.

We have DAICHO graduates
There are 26 people and they are active.
DAICHO is indispensable.

Q2.What is your image of DAICHO students?

Because I have the ability to teach at the store
indispensable existence.I want to challenge myself
I feel like there are a lot of people who think so.

Has integrity and humility.
Blends into the surroundings quickly,
Highly motivated.

Q3.Are there any students you would like to scout?
More than 200 companies visited our school■
*Total annual number
List of visiting companies (partial excerpt)
[Hotels] Milial Resort Hotels Co., Ltd. / The Ritz-Carlton Osaka / The Ritz-Carlton Kyoto / Swissotel Nankai Osaka / Rihga Royal Hotel Osaka / Hilton Osaka / Hotel Okura Kobe / The St. Regis Osaka / Hyatt Regency Osaka / Westin Hotel Osaka / Hankyu Hanshin Hotels / Hotel New Otani / Resorttrust Co., Ltd. / Hotel Granvia Osaka / Hotel Granvia Wakayama / Kobe Meriken Park Oriental Hotel / Hotel Monterey / ANA Crowne Plaza Hotel Osaka / Sheraton Miyako Hotel Osaka / Hotel Agora Regency Sakai / Hotel Agora Osaka Moriguchi / Hotel Nikko Kansai Airport / Hotel Nikko Princess Kyoto / USJ LLC / Vita Hotel Management LLC and many others
[Restaurant, Japanese restaurant, Chinese restaurant, etc.] French restaurant Lumiere / Restaurant Chansonnier / Canary Row / Piccolo Capriccio / El Poniente / Hiramatsu / Restaurant Les Freres / MAJIMA / Goshobo / Japanese cuisine Tachibana / Kyoto cuisine Kinobu / Nadaman / Honokawa / Japanese Cuisine Kiichi / Kappoya Yuzu / Kyoto Yoshicho / Lamp Inn / Ginza Aster Foods Co., Ltd. / Totenkaku / Totenkou / LA.FAMILY Co., Ltd. / Kameianju Co., Ltd. / Wise Co., Ltd. Table Corporation and many others
[Lunch services, hospitals, facilities, etc.] Medical Corporation Iseikai / LEOC Co., Ltd. / Minami Testipal Co., Ltd. / Social Medical Corporation Seichokai Bell Kitchen / Nichidan Co., Ltd. / Shidax Co., Ltd. and many others
[Patisserie, boulangerie, Japanese confectionery, etc.] Chat Noir Co., Ltd. / Freshly baked cheese tart specialty store PABLO / Confectionery studio Ann / Confectionery studio T.Yokogawa / Petit Prince / Western confectionery Saffron / Edelweiss / Masaki Ranch Co., Ltd. / Sunny Side / Le Croissant / Handmade Bread Parine / Aeon Bakery Co., Ltd. / Kawa Co., Ltd. / Kasho Asada / Isshindo Co., Ltd. and many others
[ Bridal ] Best Planning Co., Ltd. / Take and Give Needs Co., Ltd. / Dears Brain Co., Ltd. / Novarese Co., Ltd. / Plan・Do・See Co., Ltd. / Positive Dream Persons Co., Ltd. / Escri Co., Ltd. / I.K.K. Co., Ltd. / Arcane Ciel Co., Ltd. / Crede Rave Co., Ltd. and many others
[ Cafe ] Sakura Coffee Co., Ltd. / Operation Factory Co., Ltd. / WDI JAPAN Co., Ltd. / seed Co., Ltd. / Transit General Office Co., Ltd. / Clever Bussan Co., Ltd. / Balnibarbi Co., Ltd. and many others