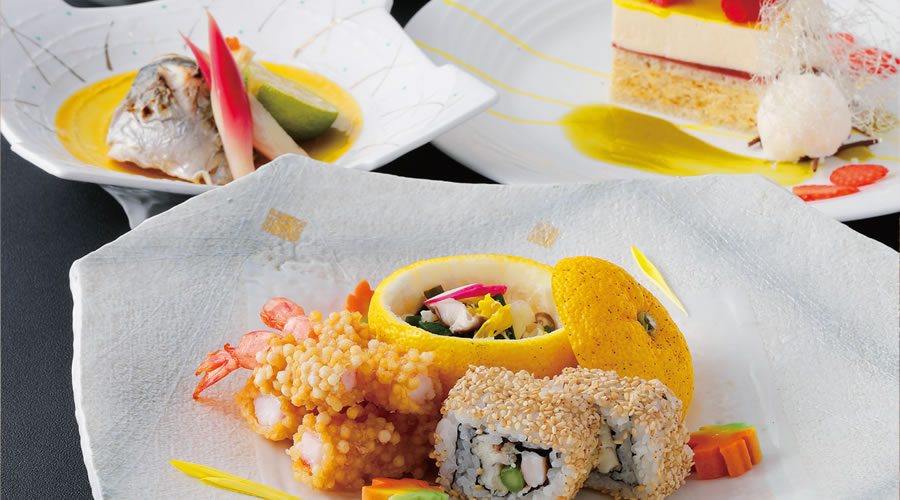 Supervised by Mr. Yasushi Karawatari, representative of Lumiere Group

Executive Chef Candidate Class

W license system

(Cooking Course + Confectionery Hygiene Course 2 years)

CHEF MASTER CLASS
Refining advanced cooking and confectionery techniques and knowledge
Acquire a national qualification with W
Chief executive of the banquet and restaurant divisions.A class aiming to be the top of many chefs.
In addition to cooking techniques and knowledge, you will also master confectionery skills.
Over the course of two years, you can focus on cooking, learn confectionery, and acquire two national qualifications.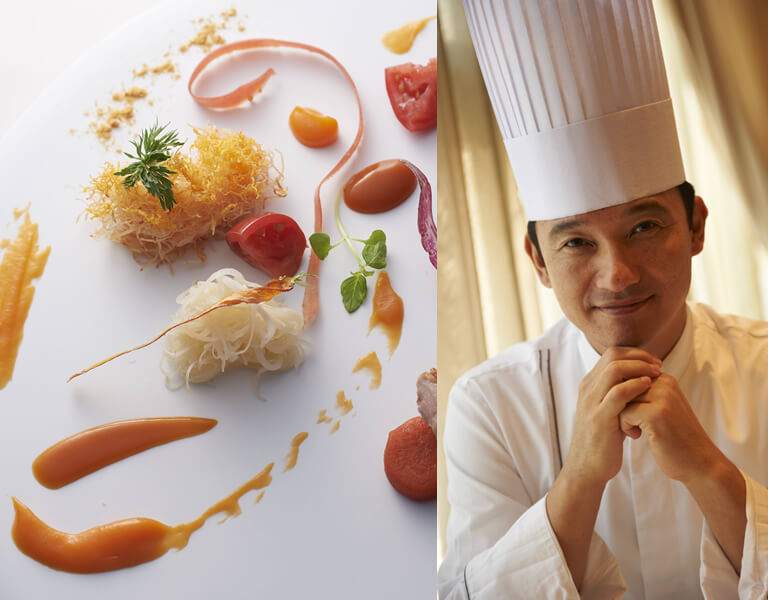 Representative of Lumiere Group 
Supervised by Yasushi Karato
Executive Chef Candidate Class
Aiming to be the chief executive of cooking
~Learning from the best to become the best~
The executive chef is the chief executive of a restaurant or hotel.
It is the presence that becomes the face, and the value is determined by the skills of the head chef in everything from the atmosphere of the restaurant, the ingredients used, and the devising of the menu.
In addition to cooking skills, you will need all kinds of skills at work.
In other words, learning to become a food generalist.

It is said that 49% of jobs could be replaced by AI.
However, creative jobs that require "creativity" and "uniqueness" to move people's hearts will survive.
A food generalist class established only at Osaka Cooking and Confectionery College (main school of Izumi school) to aim for chefs of the new era.
It is a luxurious learning experience directly from Mr. Yasushi Karawatari, the owner chef of Lumière, who leads the world not only as a first-class chef but also as a business person in the culinary industry.
Tai Karato


K-Cool Co., Ltd. President and Representative Director
Lumiere Group Owner Chef

After training at numerous famous restaurants and hotels, he opened the French restaurant Lumiere in Shinsaibashi, Osaka in 2006.
In his first year, he won the top ranking in the "Zagat Survey" and received 1 consecutive stars in the Michelin Guide.
While pursuing his own cuisine with the theme of "vegetable gastronomy" at the forefront, he also produces food and drink businesses and is also engaged in exclusive import and sales of French high-end tea in Japan.
As a representative of the Lumiere Group, he currently operates 8 stores (5 restaurants, 2 tea salons, and 1 boulangerie), and plans to open 2022 more stores in 2.

Book "Vegetable Gastronomy"
The executive chef candidate class aims to obtain two national qualifications, a chef and a confectionery hygienist, in two years under the double license system.
You will acquire the skills to make total proposals from cooking to desserts, breads, and drinks.
We aim to be a leader who can drive the cooking industry by working on a wide range of activities, from food research groups, kitchen car businesses, and corporate collaboration projects.
bistro carat(bistrot KARATO)
OPEN!

From July 2022, 7 (Wednesday), a bistro by Chef Karawatari has opened in the Uoken Building on the premises of the Osaka Cooking and Confectionery College (Izumi school main school).
In a privileged environment where first-class restaurants run by top chefs are close by, we train candidates for executive chefs required by the industry.
at hotels and restaurants
step up or
aspire to be a leader.
A class of expectations that the industry will pay attention to

Cooking and confectionery classes that aim to acquire two national qualifications

Focus on cooking and learn cooking and confectionery

Executive chef requirements

first-class technology

Ability to nurture juniors

Management ability

Branding power
Ability to acquire in 2 years

Understand the logic of "cooking itself" instead of "learning recipes"
Ability to pursue "What is cooking?"

Develop management skills, creative skills, and branding skills,
Viewpoint of food business

With deep knowledge and interest in ingredients,
Aiming to realize a sustainable society together with producers

Qualifications that can be obtained

(Country) Cook license

Blowfish License (Blowfish Handling Registrant's Certificate)

Food education instructor

Food coordinator

(National) Confectionery Hygienist Examination Qualification

Technical examination

Shokuiku Instructor

Vegetable sommelier
Features of Executive Chef Candidate Class
food industry attention
A class to learn the pinnacle of cooking sweets
In the first year, you will acquire the basic knowledge and skills of all cooking genres.
In the second year, while learning the basics of all genres of confectionery, you will acquire higher-grade cooking techniques and knowledge such as advanced cooking training and food design.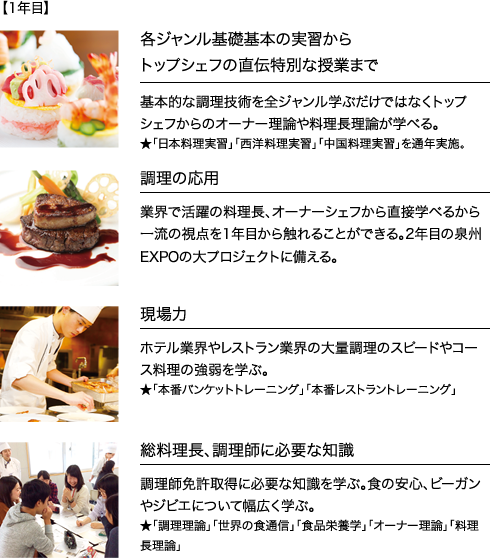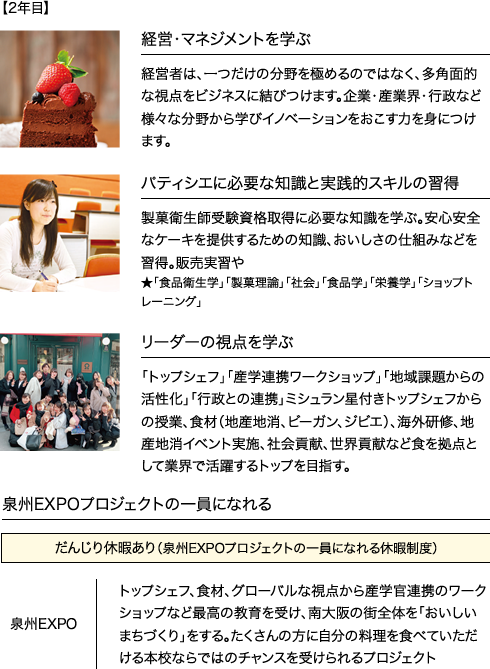 Strength in the hotel industry is also attractive
The hotel industry, which has various sections, still has many active chefs.People who can handle mainly cooking and confectionery are required, which is advantageous for stepping up.

Experienced as a head chef
You can learn from a full-time teacher and an active head chef!
Takashi Ebisu

Full-time Western Cuisine Teacher

Through an educational tie-up with Kishiwada City and close interaction with producers such as farmers, fishermen, and livestock farmers, you can learn about ingredients and "local production for local consumption" locally, and learn the value of seasonal ingredients and how to make the best use of seasonal ingredients. environment.
Hiroshi Yamaguchi

Kobe Kitano Hotel General Manager/Executive Chef

A creative class that provides recipes and dishes commissioned by local companies, facilities and educational institutions with the theme of local production for local consumption.More than 150 companies cooperate with Murakawa Gakuen!There is a class to publicize your own original recipe to people in the world.
Check out other departments/classes!