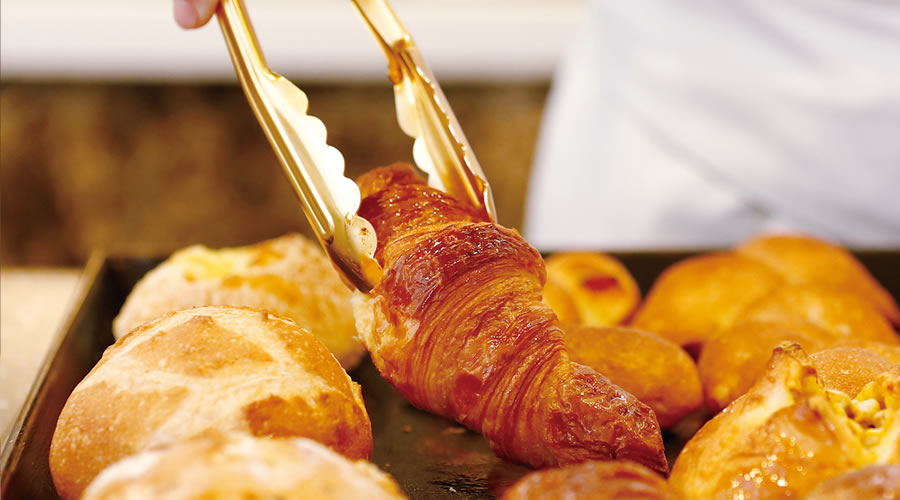 Confectionery Comprehensive Course

Patissier &
Boulanger class

(Confectionery 2 year course)

PÂTISSIER & BOULANGER CLASS
learn the bread of the world,
For a versatile Boulanger
Comprehensive study of Western confectionery, bread making, and Japanese confectionery in the first year
Acquire basic basic technology,
Acquire the knowledge necessary to acquire a confectionery hygienist.
It is possible to obtain a national qualification during the second year of school.
In the second year, from more advanced confectionery technology,
There are over 1,500 types of bread
There is also advanced learning in cooperation with a genuine German bakery school.
You can learn advanced confectionery and bread making technology and management

2nd year You can learn specialized bread making in addition to Western confectionery

You can also learn about management, overseas, and nutrition at select seminars

Master bread knowledge and skills in a bread-making training room

Qualifications that can be obtained

(National) Confectionery Hygienist Examination Qualification

Shokuiku Instructor

life care color test

Vegetable sommelier

Bread making technician

Specialist

patisserie wrapping

Food coordinator

Confectionery Skilled Worker Level 2
Features of Pastry Chef & Boulanger Class

2 hours of abundant practical training in two years!
Timetable example (2nd year)

MON
YOUR
WED
THU
FRI
1st period(8:50~
10: 20)
height
confectionery
Practice
height
confectionery
Practice
confectionery
Design
height
confectionery
Practice
height
confectionery
Practice
2st period(10:30~
12: 00)
3st period(13:00~
14: 30)
management
height
confectionery
Practice
material science
Design
4st period(14:40~
16: 10)
語
After School Activities
(16:10~
18: 00)
Voluntary practice
Voluntary practice

*Curriculum is subject to change.
After learning all about confectionery
Divide into specialized classes.
First-class patissiers and chocolatiers have a wide range of knowledge and experience, from ingredients to cooking methods.
By choosing a specialty genre after learning all about confectionery in the first year, you can acquire further depth and a large repertoire by your own skills and knowledge.
1 technology

Learn a wide range of recipes from traditional cakes to the latest cakes.Aiming to become a creative patissier by learning techniques and ingredients that change with the times.

2 sensitivity

By mastering the techniques of decoration, serving plates, and craftsmanship, you can express sweets that appeal to people with their appearance.

3 practice

A popular patisserie owner and a confectionery manager from a famous hotel visit the school for classes.You can learn about popular products at shops and hotels directly from star pastry chefs.
1 technology

German Bread, French Bread, Danish Bread, Japanese Bread, American Bread Learn the techniques of bread that is loved all over the world.

2 Knowledge

Learn the characteristics and handling of each type of flour, such as rye, whole wheat, and domestic wheat, and acquire the skills and knowledge to make a wide range of breads.

3 home

A chance to learn about bread in Germany, the country of bread.After studying at the National Bakery School in Munich, you can do an internship at the well-established bakery Rischart, which has been in business for over 130 years. (Applicant)
[Example of training menu]
・Bartard ・Pain de campagne 
・Pane au Segur ・Rye bread 
・Pamblier ・Schusterjungen 
・Vegel ・Bread Compre 
・Bread me ・English muffin 
・Bread Bubbatar ・Focaccia 
Riosh Butterkuchen 
・Kugloff ・Cinnamon roll 
・Berlinap ・Panettone 
Funkuchen Pain au chocolat 
・Stollen ・Donuts 
・Danish pastry ・Side dish bread 
・Croissant ・Sandwich 
・ Kaiser Semmel etc.

seminar

global seminar

Nutrition Innovation Seminar

Management seminar

select one from

Design

There are also classes where you can learn the know-how necessary for patisserie management such as design and wrapping

Partnering with Europe to Master Bread

You can take a joint class with Rischart, a major long-established bakery in Munich, Germany that has been loved for over 130 years.There is an opportunity for meisters to come to Japan and learn directly about bread, and thoroughly master it.

Sales experience at a major department store

You can experience sales at Daimaru Department Store, which is the largest station in western Japan. You can gain practical experience from producing to selling cakes, breads, and confitures that are "delivered to customers."

A training room where you can learn to make bread on a specialized training table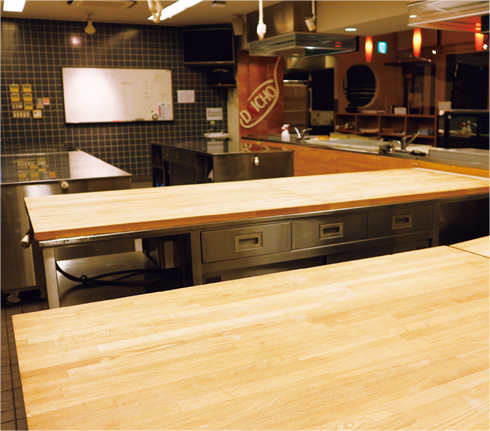 The training table, which uses ash wood on the entire surface, is the best environment for learning bread.The training table is equipped with casters, making it a versatile training room that can be customized for efficient production lanes during sales training.
Check out other departments/classes!