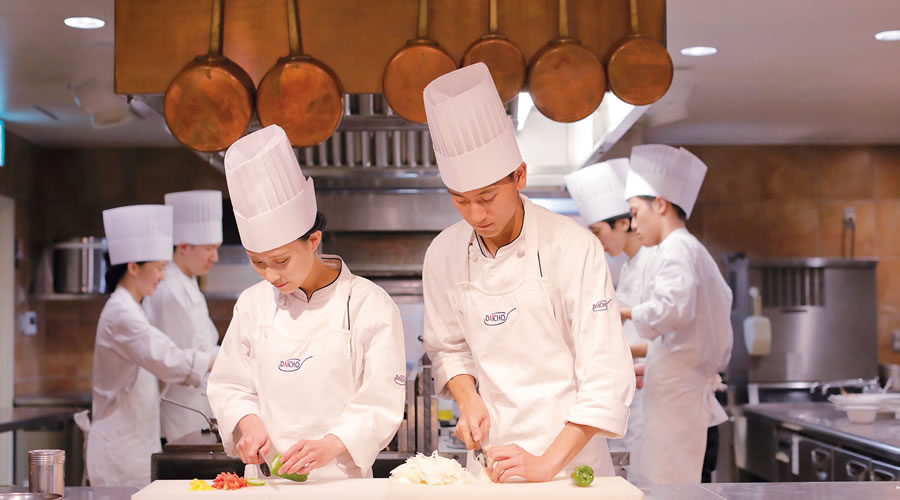 FAQFAQ
To all of you who are considering admission
We have compiled a list of frequently asked questions.Please feel free to contact the school if you have any questions.
Q1. Is it possible to apply for Osaka Cooking and Confectionery College and Osaka Cooking and Confectionery College ecole UMEDA at the same time?
Yes.
However, certain procedures are required.In addition, unless the applicant intends to apply for multiple applications, we will not introduce sister schools other than the school to which we are applying.
Q2. Please tell me the difference between Osaka Cooking and Confectionery College and Osaka Cooking and Confectionery College ecole UMEDA.
Since they are sister schools, the educational policy is the same.
The educational curriculum is basically the same, but there are classes (departments) that are set up only at the Osaka Cooking and Confectionery College and the Osaka Cooking and Confectionery College ecole UMEDA.
Please check the following.

(Cooking 2-year course) Japanese sushi class/Western cooking class
(Cooking 1 year course) Cook class
(Confectionery 2 years) Patissier & Chocolatier Class / Patissier & Boulanger Class
(Confectionery 1 year course) Confectionery hygienist class
(Cooking + confectionery = W license system (2 years)) Executive chef candidate class / bridal master class / cafe master class / cooking and confectionery class
(1 year) Career Assist Course Class
Q3. Is there anything I should do before entering the school?
There is nothing in particular, but it is important to deepen your interest in the food industry.
One way to do this is to observe the price range of the products and the behavior of the people working there when you go to a nearby restaurant or patisseries.
Also, if you take a pre-college course from December 2022 to September 12, you can learn industry research and introductory basic techniques and knowledge of cooking confectionery, so we recommend it.
Q4.Is it okay if I am a complete beginner?
Yes, it's fine.
Our school is a school where you can aim for a professional from 0.After entering the school, you will learn thoroughly from the basics, so don't worry.
Q5. I am worried whether I will be able to keep up physically if I have practical training every day.
You can rest assured that there is a freestyle practice that matches your own pace.
For those who find it physically difficult to practice five times a week, you can set a day a week when you do not choose to practice in the freestyle practice system.
Q6. Can I enroll even if I am older?
Yes, I can.
It's never too late to start.Our school has a wide range of age groups, from teens to 10s.
Q7. What is the male to female ratio?
The male:female ratio is 4:6.
In terms of the ratio of students enrolled in 2022, the ratio is roughly male:female=4:6.It varies slightly by department.
Q8. Are there any costs other than tuition?
You do not need to pay any fees other than those listed in the admission guidelines (entrance fee, tuition fee, training fee, facility management fee, miscellaneous expenses).
In the case of our school, there are no additional costs other than those listed above (for example, food costs, textbook costs, etc.), so please be assured.
However, if you wish to participate in a voluntary qualification examination, etc., you will be charged for that amount.
Q9. Is there a separate fee for participating in overseas training?
The personal burden is about 0 to 20 yen.
The amount of the burden will be changed according to the situation of the world situation.

Classes eligible for overseas training
Classes belonging to General Cooking Course (2 years), General Confectionery Course (2 years), W License (2 years)
Q10. Is it possible to pay tuition with a scholarship?
Yes. It is possible.
Please be sure to apply for reservation recruitment of the Japan Student Services Organization at the high school you are enrolled in (or was enrolled in).
The Japan Student Services Organization (JASSO) will start lending scholarships after admission (around May or June).
Please note that it cannot be used for tuition paid before enrollment.
Q11. I am thinking of living alone, can you introduce me to a property?
Yes.
We introduce condominium type and dormitory type according to your lifestyle.
≫ For details Click here for more information.
Q12. What is the rent market?
If it is a one-room apartment type, it is about 30,000 to 50,000 yen / month near Osaka Cooking and Confectionery College (Izumiotsu City).
Near the Osaka cooking and confectionery college ecole UMEDA (Osaka city), it costs about 40,000 to 70,000 yen/month.
Also, if you stay in a dormitory, it will cost around 2 yen, including breakfast and dinner.
Q13. Is it possible to get a U-turn job locally?
Yes. It is possible.
Every year we welcome students from all over the country, so we handle job listings from various regions.
In addition, there is a sister school in Tokyo, so it is an environment where it is easy to find a job in the suburbs of Tokyo.
Q14. I feel uneasy about living alone in Osaka. Will I be okay?
Yes, it's fine.
Osaka is an easy-to-live-in city with various facilities and equipment.
At Osaka Culinary & Confectionery College (Izumi school main school), the rent market is low and it is located about 20 minutes by train from the city center, so it is a very comfortable environment to live in.
There are also many single-family apartments.
At first, you may feel anxious about living away from your parents, but please be assured that there is a full range of support such as the "Monthly Party" for those living alone.
Before and after the trial admission, you can also try to enter the student dormitory (free accommodation).
About AO entrance examination
Q15. Please tell me how to apply for an interview for the AO entrance examination.
◆ When applying for an interview only
You can easily make a reservation from our website.You can also make a direct reservation by phone.
Reception is available at any time, but for high school students, it will be held on Saturdays, Sundays, national holidays, or after school on weekdays so as not to interfere with their high school studies.

◆ If you want to participate in the open campus and have an interview after participating
When making a reservation to participate in the open campus, please tell us that you would like to be interviewed.
Q16. Do I need a high school "research report" to apply for the AO entrance examination?
No, it is not required at the time of entry.
A study report is required at the time of application (9/1 to 9/30).
Q17. Is it possible to have an AO entrance examination interview on the day of the open campus?
Yes. It is possible.
If you make an entry on the day you participate in the open campus, you will be able to receive an interview after the open campus.
Q18. Is there any cost to participate in the Open Campus?
No, it doesn't.
Q19. Is it okay to wear plain clothes?
Yes, it's fine.
Please come in clothes that are easy to move in as you will be practicing.The school will provide everything you need for the training.
Q20. Is it possible for parents to participate?
Yes. It is possible.
At the open campus, we will hold a briefing session for parents at the same time.We will talk about tuition fees, employment, student life, etc. in detail, so please join us.
Q21. Is there any transportation subsidy?
yes, I have.
We have the following plans:

Pre-college program user
・Period from December 2022 to September 12
・Transportation expenses up to 1 yen once a month

Transportation expense subsidy system
・High School 2nd Year January to March / High School 1rd Year All Years
・Transportation expenses up to 5,000 yen (first time use only)
*Some areas are eligible.

≫ For details Click here for more information.
Q22. Can I use the student discount?
Yes.
Since our school is a vocational school approved by the Governor of Osaka Prefecture, various student discounts are applied, including commuter passes and long-distance discounts for all public transportation.
You can reduce the burden of transportation expenses considerably compared to various schools that can only be used on a regular basis.
Q23. Do you have a homeroom teacher?
Yes, I'm here.
We have a complete homeroom teacher system, and the homeroom teacher of each class is an experienced person in the industry.As a leader, and sometimes as a senior in the industry, I will support you empathetically.
Q24. Please tell us the difference from other vocational schools and universities.
The biggest difference is the amount of practice.
Emphasizing practical learning, we place great importance on opportunities for students to "create" themselves.
In addition to just "making", there are practical training based on theory, and cooking while grasping the flow of the site through actual store management.
It is an environment where you can acquire skills and knowledge that are directly connected to the field, and you can learn while being absorbed.
Q25. I am looking at various schools to choose a course, but please tell me what kind of school I should choose.
Rather than "which school to choose",
"What can I learn there?"
Instead of asking, "Which school did you go to?"
"What can you do with your own skills and knowledge?"
important in the food industry.

While there are multiple vocational schools, I think you will hear various information at open campuses.
We are confident in our school's educational policy and environment.
Please choose your course carefully with your own eyes.
If you have any concerns or questions, please feel free to contact the school.