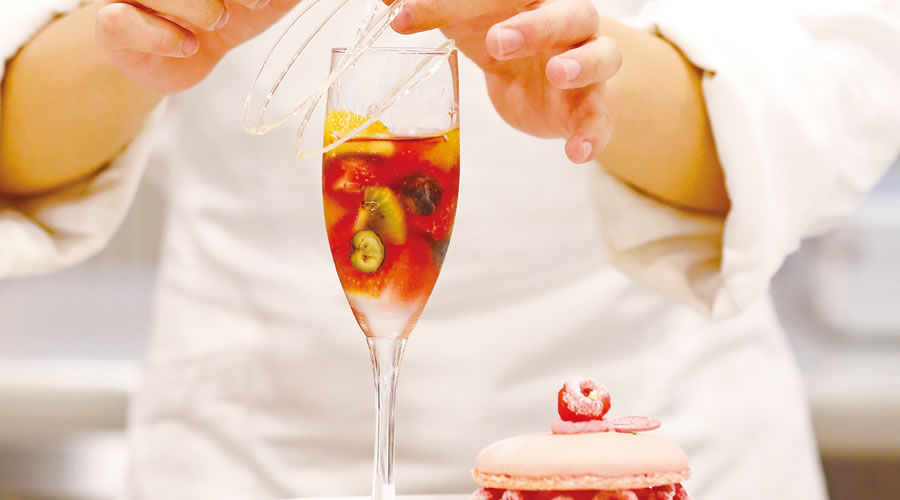 Confectionery hygienist class
(Confectionery 1 year course)

CONFECTIONERY CLASS
Fundamental Basics + Practical Training for Selectable Majors
Become a ready-to-use patissier!
The shortest distance to the pastry chef.
Thoroughly learn all genres of confectionery
solidify the basics,
In the major training from the second semester
We also challenge advanced confectionery technology in the desired genre.
At the time of graduation, as an immediate fighting force
We develop human resources who can play an active role in the field.
Aiming to become a pastry chef in a short period of time.

Thoroughly learn the basics of all genres!

From the second semester, major training is a plus

You can learn everything from the basics to specialized fields in just one year

Qualifications that can be obtained

(National) Confectionery hygienist examination qualification

Vegetable sommelier
Confectionery hygienist class features
[The first year of the confectionery specialist class (two-year system)
same curriculum]

The annual training amount is 776 hours! Learn "Theory" and "Material Knowledge"
The amount of training you learn in a year is about twice the training time (1 hours) required to acquire a national qualification!
With the amount of training that is worthy of the top level nationwide, you will acquire the basic basics that will allow you to play an active role as a professional even in a short period of one year.


4 styles of daily practice
Learn a wide range of Western confectionery, bread making, and Japanese confectionery, and master the basics and techniques.This is also important for mastering one genre.
In addition, DAICHO, which has a large amount of practical training, offers "major practical training" from the second semester!You can focus on and specialize in the genre you want to aim for.

4 ways to learn that will definitely improve your skills!
One-self training

Produced one per person.We frequently practice the style of carrying out the entire process from weighing to decoration.

routine training

Because there is practice to make every day, you can practice the basic basics repeatedly. It's a routine of around 10 minutes, so concentrate and master the technique.

Check test

A full-time instructor checks 1:XNUMX whether you have mastered the basic items that are necessary no matter where you get a job.We will guide you until you pass, so there is nothing left to learn.

Handicraft confectionery practice

While there are many schools that offer handcrafted confectionery classes at an additional cost or on an optional basis, at Osaka Cooking and Confectionery College, everyone can learn about handcrafted confectionery in class.
Check out other departments/classes!