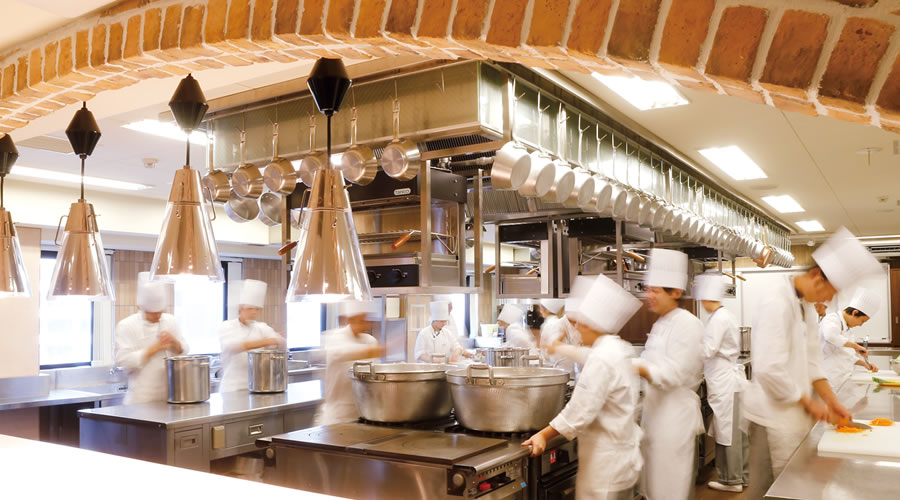 Campus/FacilitiesCAMPUS LIFE
The environment of the professional site itself is reproduced on campus!
Training room for specialized learning
At ecole UMEDA, the Osaka Cooking and Confectionery College, we incorporate the latest equipment and equipment, as well as dedicated training rooms for each genre.
It is attractive to be able to learn in the same environment as a professional while still in school.
Exterior Appearance

The appearance of the school does not look like a school, and it blends in well with the town of Umeda and Kitashinchi.The students are studying energetically every day in a stylish English-style school building with characteristic red bricks.

Tienda production training room

Shop & cafe training room on the first basement floor.Here, "actual shop training" and "actual cafe training" are conducted for general customers.You will acquire practical skills in confectionery, bread, and customer service sales.
Espresso machine

Equipped with a cafe-style espresso machine.You can learn latte art from a professional barista.

大理石

A cool marble worktop is perfect for tempering chocolates and making tarts.

Huiro

A hoiro is a fermentation chamber for commercial use that can control temperature and humidity.It is an indispensable machine for making bread.
heat lamp

An infrared warmer maintains the temperature until the finished dish is served.

convection oven

A multifunctional cooking appliance that can bake, simmer, and steam with steam and hot air.

Salamander

A kitchen appliance that browns surfaces at high temperatures.It is also indispensable for the production of deliciousness.

Escoffier Western cooking training room

The training room is decorated like a stylish cafeteria.The large kitchen is stocked with cooking utensils that are also used in actual stores.Here you will accumulate practical learning and learn techniques and senses that can be used immediately in the field.
far infrared grill

Japanese-style restaurants and Japanese-style cooking are equipped with grilled floors that are heated at low heat.We cook sweetfish dance skewers and conger eel skewers.

Japanese cuisine training room

A practical training room that provides a professional working environment from the perspective of a specialist in Japanese cuisine, such as craters, grills, pots, and various plates dedicated to Japanese cuisine.
Large mixer

A large mixer that is very useful for shop and cafe training.He mastered the handling while still in school.

oven

The industry-famous oven "Bakken" adopted by high-end patisserie and bakery.

Hinoki board

Equipped with a cypress board so that the yeast will be active and you can make delicious bread.

Grande Maison

A confectionery training room with a sense of openness.This practical training room is equipped with the best equipment for learning about confectionery, such as cypress boards that are ideal for making bread and a high-grade oven "Bakken".
Chinese cooking stove

The charm of Chinese cuisine is the strength of the heat.We use a stove dedicated to Chinese cuisine with about 10 times the heat power of a home.

Chinese cooking training room

A training room where you can specialize in learning Chinese cuisine with a long and deep history, such as a powerful fire crater dedicated to Chinese cuisine, a steamer for making dim sum, and a special kiln for cooking Peking duck.