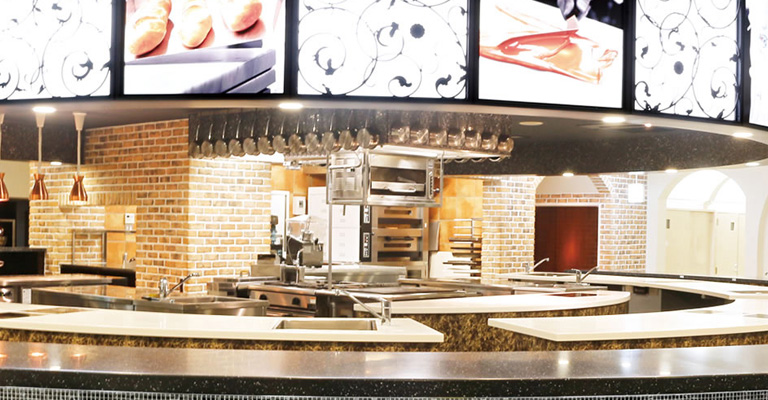 Surrounding mapCAMPUS LIFE
A "first-class" school in a city where "first-class" are available
The Ritz-Carlton Osaka

Opened in 1997 as a memorable hotel for Ritz-Carlton's first advance into Japan.The high-quality cuisine is also a secret of its popularity, and the French restaurant "La Baie" in the hotel has been awarded one star in the "Michelin Guide" for the 10th time in four consecutive years, and "Tempura Hanadaku" twice.

Hotel

Hilton Osaka

Hilton Hotels & Resorts has more than 6 hotels in popular destinations on six continents.Hilton Osaka, which is a landmark in front of Osaka Station, has a full range of restaurants such as sweets buffet, kaiseki, sushi, teppanyaki, and grill.Many graduates are active at Hilton Osaka.

Grand Front Osaka

A complex facility directly connected to Osaka Station, used by about 1 million people a day.Of the shops, restaurants, and cafes, 250 are opening in the Kinki region for the first time.A state-of-the-art commercial facility where trends gather.

Shopping

Hankyu Umeda Main Store

A department store boasting the largest sales floor area in Japan.In addition to shopping, there are famous patisseries and restaurants produced by Michelin-starred chefs.

Kitahama/Osaka City Central Public Hall

A business district lined with securities companies and banks.At the same time, the Osaka City Central Public Hall, which is famous for its retro architecture, and the Nakanoshima Park, where more than 3 roses bloom, attract many tourists as an area where the city and nature are in perfect harmony.Along the Tosabori River, which is one step away, is a popular area for young people, where cafes boasting great views are lined up.

Cafe area